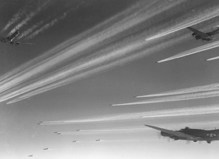 This campaign uses the game Target for Today -- published by Legion Wargames -- to simulate the strategic air campaign flown out of England from 1942 to 1945. The two bomb groups each have four squadrons, each comprised of six bombers. Each participating player flies a bomber to the designated target as determined by the game master/coordinator. Once the mission is completed, the player submits an after action report through an online form.

Rules:

1. Ownership of the game Target for Today is required to participate in the online campaign.
2. The game master will assign the target and other pre-mission information as necessary. Players will then have 14 days to complete a mission and file an AAR. Players will be notified via email with mission information and squadron assignments.
3. If a player cannot fly for any reason, he must notify the game master. If a players fails to fly two missions in a row without notifying the game master, he will be booted out of the campaign and a back up will take his place.
4. AAR can be sent via the form or email (either in the text or as an attachment). Specific information must be included in the AAR and will be specified in the email with mission information sent by the game master. Nose art (200x200) must be sent by email.

Links: Campaign Home -- Rules -- 800th BG -- 900th BG -- Mission and AAR Form -- AARs

To sign up for the campaign, go here. Be sure to mention which plane you wish to fly. It will determine which group you will be assigned. If no slots remain for your preferred plane, you will be assigned to the other group.